Biography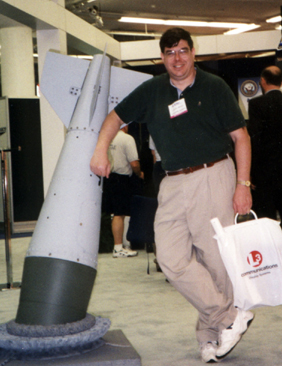 Larry Bond is 61 and lives with his wife Jeanne and daughters Katie and Julia in Virginia outside Washington DC. After co-authoring Red Storm Rising with Tom Clancy, he has written six novels under his own name: Red Phoenix, Vortex, Cauldron, The Enemy Within, and Day of Wrath, all were published by Warner Books. His latest work is Dangerous Ground, released in May of 2005 and published by Tor Books. He also wrote a novella titled Lashup, which appeared in Steven Coonts' anthology Combat, as well as several published short stories. He is presently working on several new book projects.
He has also co-designed the Admiralty Trilogy series games, which include Harpoon, Command at Sea, and Fear God & Dreadnought. All three have won industry awards.
Larry's writing career started by collaborating with Tom Clancy on Red Storm Rising, a runaway New York Times bestseller that has was one of the best-selling books of the 1980s. It depicted a hypothetical conflict between NATO and the Warsaw Pact, drawing heavily on expert analysis of what such a conflict would be like. It has been used as a text at the Naval War College and similar institutions.
Since then, Larry's books have depicted military and political crises, emphasizing accuracy and fast-paced action. Red Phoenix, Vortex, and Cauldron were all New York Times bestsellers.
Red Phoenix was set in South Korea and depicted an invasion of the south by a decaying North Korean government. Vortex told the story of a reactionary Afrikaner government trying to roll back the clock in South Africa. Cauldron showed a financial crisis in Europe that grew out of control, leading to a military confrontation between France and the United States. The Enemy Within depicted a terror campaign launched against the United States. Day of Wrath followed the same characters as The Enemy Within. They faced a large-scale nuclear weapons conspiracy led by a millionaire Saudi terrorist. Dangerous Ground is set aboard a US nuclear attack sub, and is the frst of a series following the career of Jerry Mitchell, a young naval officer.
Lashup is set in the near future, 2010, and shows the U.S. dealing with a sudden threat to its GPS satellites by hurriedly fielding its first armed spacecraft.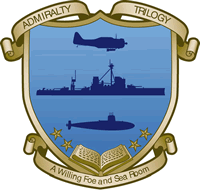 Larry's Harpoon gaming system was first published in 1980. Designed as a general-purpose air, surface, and submarine naval simulation, it combines playability with a wealth of information on modern naval weapons systems. Designed for the entry-level player, it has found acceptance in both the commercial market and the professional naval community. It is used at the Naval Academy, several ROTC installations, and on several surface ships as a training aid.
Now in its fourth edition, Harpoon has won the H.G. Wells Award, a trade association honor, in 1981, 1987, and 1997 as the best miniatures game of the year. It is the only game to win the award more than once.
The computer version of the game first appeared in 1990, and won the 1990 Wargame of the Year award from Computer Gaming World, an industry journal. An updated version of the single-player game, as well as a multiplayer version have all been published. A new version of the computer game is now in development.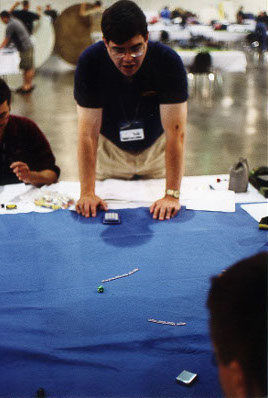 Command at Sea is the second game of the Admiralty Trilogy, and is an adaptation of Harpoon to the WWII era. Like Harpoon, it emphasizes both playability and historical accuracy, drawing on many contemporary sources.
Fear God & Dreadnought extends the game system back to World War I, allowing players familiar with the system to play any naval battle of the Twentieth Century. Emphasizing playability as well as scrupulous historical accuracy, research for the game has involved many of the best naval historians in the world.
The game system is expanding constantly, with half a dozen titles under development at any given time.
In June of 2004, because of his many award-winning game designs, as well as over 20 years' experience in gaming and writing, Larry was inducted into the International Hall of Fame by the Game Manufacturers Association.
Graduating from St. Thomas College, St. Paul, Minnesota in 1973 with a degree in Quantitative Methods, Larry worked first as a computer programmer for two years before being selected for Officer Candidate School in Newport, Rhode Island. He was sworn into the Navy in 1975 and graduated from OCS the following year.
Larry was in the Navy for six years, serving four on a destroyer and two on shore duty in the Washington DC area. He served in the reserves for two years with the Naval Reserve Intelligence Program. After leaving the Navy he worked as a naval analyst for defense consulting firms in the Washington, DC area. He now writes and designs games full-time.
Larry is an avid wargamer and modeler.
You can contact Larry Bond by email at AuthorBond@aol.com
Also check out this interview to learn more about his writing process.