Books
Larry Bond's fiction centers around military and political conflicts, focusing as much on fast-paced action as on portraying with high accuracy the workings of the military. The list is sorted with the most recent works first, and series are grouped together. Each book cover is linked to the publisher's website, unless it is out of print.
Red Dragon Rising — with Jim de Felice
Watch the Trailer (wmv) • Jim de Felice interviews Larry Bond (wmv)
The Jerry Mitchell Series — with Chris Carlson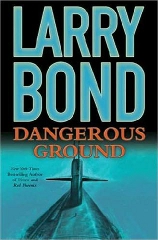 Dangerous Ground
Jerry Mitchell, a fighter pilot grounded by an injury after a crash, fights the Navy's plan to give him a medical discharge. Instead, he joins the submarine service, and fights to become accepted as a valuable member of the crew.
Along the way, he must deal with exotic and dangerous technology, a hostile captain, an impossible mission, and in the end, a threat nobody had expected.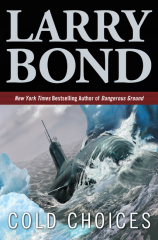 Cold Choices
New York Times Bestseller
Following the events Jerry Mitchell encountered in Dangerous Ground, the pilot-turned-submarine officer is now a department head, the navigator aboard USS Seawolf. Now on a mission in the Barents Sea, north of Russia, Seawolf explores the sea floor, part of a sophisticated reconnaissance plan that will watch the Russian navy as it trains for battle. Although well outside Russia's territorial waters, Seawolf is ambushed by Russia's newest submarine, Severodvinsk. Although it doesn't fire any weapons, its aggressive new captain, Alexi Petrov, harasses the intruder with dangerously fast, insanely close passes by the American boat. The two subs collide, with the Russian boat crippled and trapped on the bottom. Only Seawolf knows where she is, and the rest of the Russian fleet is too angry to listen. Mitchell and his shipmates have to keep their own damaged boat afloat, figure out a way to make the Russians listen, and keep the trapped Russian submariners alive until they can be saved - if that is even possible.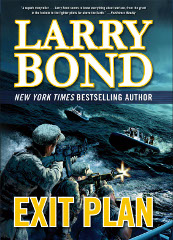 Exit Plan
Jerry Mitchell is on exercises off the coast of Pakistan when his submarine is ordered to a rendezvous off the Iranian coast. Once there, disembarked SEALs, experts in seaborne commando operations, are to extract two Iranian nationals who have sensitive information on Iran's nuclear weapons program. But while en route, the ASDS minisub suffers a battery fire, killing one crew member and forcing the rest of the occupants, four SEALs and LCDR Mitchell, to scuttle their disabled craft and swim for shore. There they find the two Iranians waiting for them, but their attempts at returning to Michigan are thwarted by heavy Iranian patrol boat activity. When agents of Iran's secret police, VEVAK, appear, escape seems all but possible. As each attempt falls apart, time and options are quickly running out…and when they find themselves surrounded by Iranian Revolutionary Guards Corp troops, they create a bold plan to escape by sea. It's a desperate gamble, but it's the only way to get the proof of the Iranian plot to the US…and prevent a devastating new war.
[Back to Top]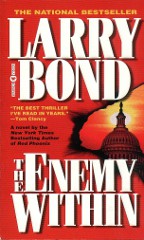 Enemy Within
with Pat Larkin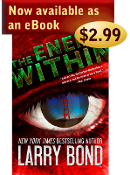 The first wave of a meticulously planned terrorist campaign sponsored by a foreign power has succeeded in driving the United States into civil chaos. As top counter-terrorist teams search for the reason and the source of the savagery, two American agents are hot on the trail of the mastermind. They must find a way to stop the terror king and his hidden forces -- before America wakes up to an even bigger nightmare.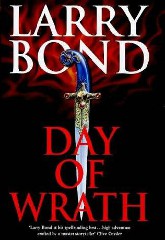 Day of Wrath
with Pat Larkin
The characters from Enemy Within return to face a conspiracy of frightening dimensions. A terrorist leader with ability and millions to spend is smuggling nuclear weapons into the US, enough weapons to cripple the military as well as to kill millions.
Peter Thorn and Helen Gray must investigate a death that seems to lead nowhere, tracking their quarry across Europe and the United States, fighting not only the plotters but traitors in their own ranks.
[Back to Top]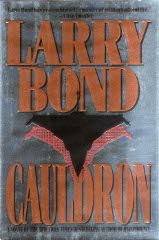 Cauldron
New York Times Bestseller
with Pat Larkin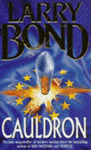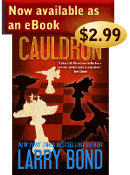 Cauldron begins when a financial crisis erupts in Europe and quickly grows out of control, leading to a military confrontation between France and the United States. A new European coalition, led by France, attempts to take military and economic control of Europe, and old allies and enemies realign themselves on the map of post Cold-War Europe.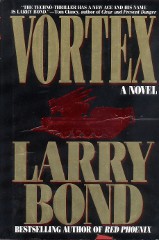 Vortex
New York Times Bestseller
with Pat Larkin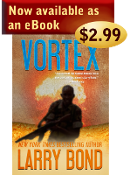 Before the Liberalization of the 1990s, South Africa was ruled by the Afrikaners, a group of white immigrants that believed in racial harmony through complete separation of the races. They also took measures that ensured that the Afrikaners retained economic and political power.
Vortex tells the story of a reactionary Afrikaner government. Threatened by both international and internal demands to liberalize their rule, instead they try to roll back the clock, triggering a crisis that involves the United States and Cuba in a three-cornered conflict nobody wanted.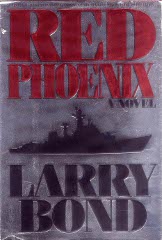 Red Phoenix
New York Times Bestseller
with Pat Larkin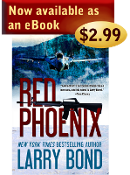 North Korea is the only country ruled by a hereditary Communist government. Kim Jong Il, its "Dear Leader," rules with absolute authority. In spite of its small size and its people's poverty, the North fields one of the largest armies in Asia, poised to invade neighboring South Korea at any time. The South, buttressed by the United State military, has to be equally ready to defend itself.
In Red Phoenix, a political crisis in both South Korea and America gives Kim the opening he's been waiting for. He launches an invasion that involves not only the US, but pulls Russia and China into a conflict that engulfs the entire continent of Asia and threatens to become a worldwide conflagration.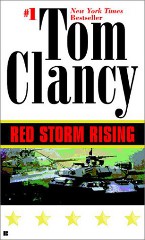 Red Storm Rising
New York Times Bestseller
with Tom Clancy
Red Storm Rising, a collaborative effort with Tom Clancy, was the book that started Larry's writing career. It became a runaway New York Times bestseller and one of the best-selling books of the 1980s. It depicts a hypothetical conflict between NATO and the Warsaw Pact, drawing heavily on expert analysis of what such a conflict would be like. It has been used as a text at the Naval War College and similar institutions.
[Back to Top]
Works in Anthologies
[Back to Top]